About Us
Woodmoor Water and Sanitation District No. 1 (The District) is a Special District that provides sewer and water service to homes and businesses in the unincorporated area of northern El Paso County, Colorado.  The District's service area is comprised of a range of elevations (7396' - 6949') in a land area of approximately 6.1 square miles.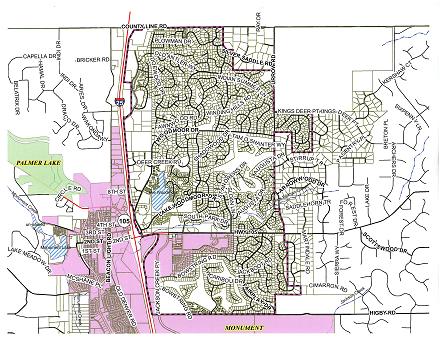 The District is responsible for providing approximately 8741 customers with a reliable supply of water for domestic and irrigation use as well as wastewater services for the collection and treatment of the wastewater.  Groundwater and surface water is treated to potable standards at our facilities, and distributed to residential, commercial, and public customers.  As part of our ongoing conservation plan, some of the large irrigation demands are supported by a non-potable water distribution system.  The District also publishes an annual Drinking Water Quality Report that demonstrates compliance with State and Federal water quality standards.
The Rules and Regulations are the documents used to administer the policies and procedures of the District.  The Standards and Specifications are the guidance documents used for all District construction projects.  We are pleased to offer many of our commonly requested forms and provide answers to Frequently Asked Questions (FAQs) online.  Billing, meter, rates and rental information, are found in Customer Services.

Colorado law requires that prior to excavation, Utility Locates are required to locate underground utilities.
The District performs inspections on new water and sewer taps, Commercial Building Plan Review and Inspection (in conjunction with Regional Building Department permit process), Development Plan Review (in conjunction with Planning Submittals), and Construction Plan Review (for Sewer and Water Mains).

If you have any questions please Contact Us.